컨텐츠영역
fnctId=bbs,fnctNo=1230
글번호

5267
Peace Forum 2022 Held
IFES-EN-NEWS - DATE,TYPE CONTENTS

| | |
| --- | --- |
| Date | 2022-11-25 |
| type | News |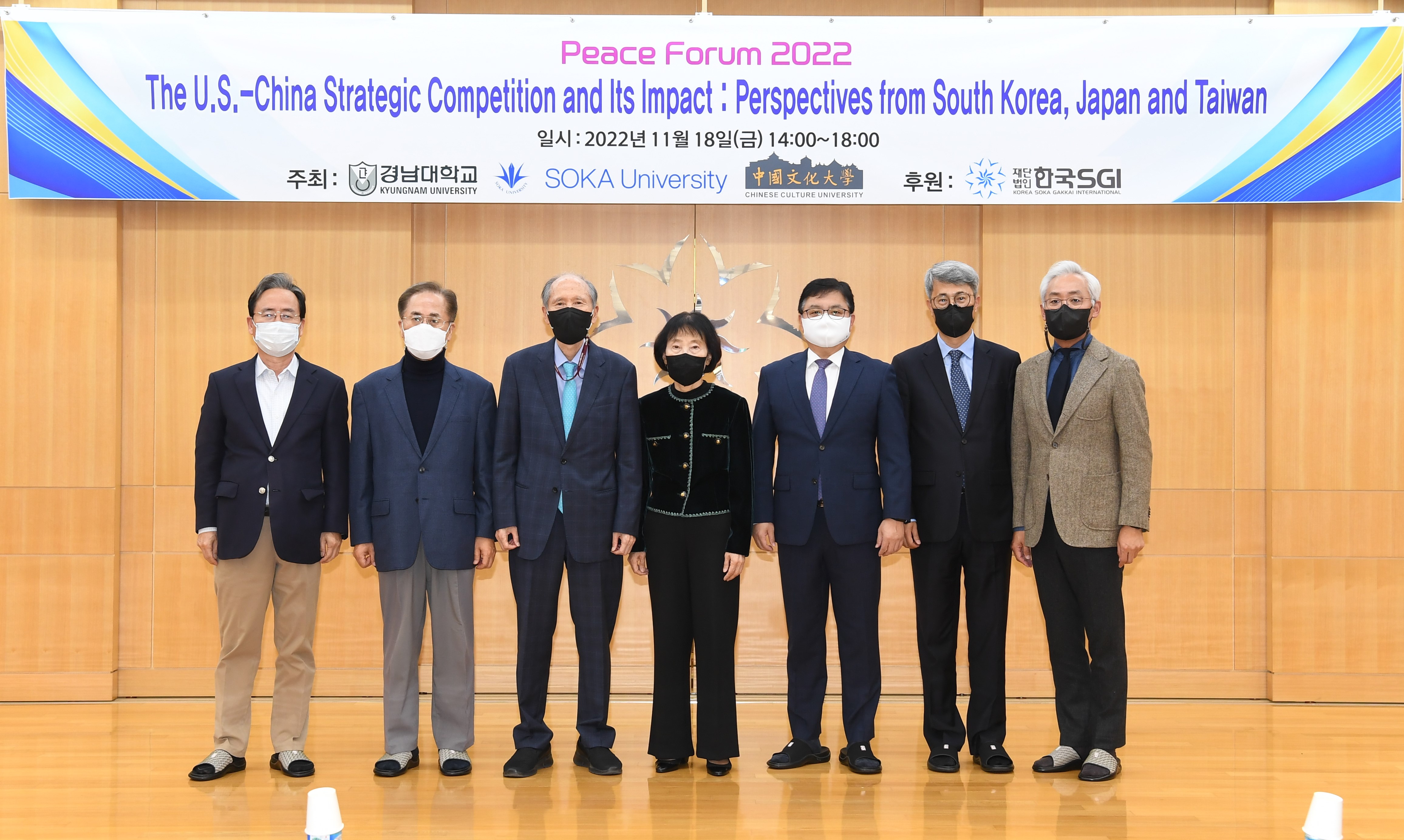 2022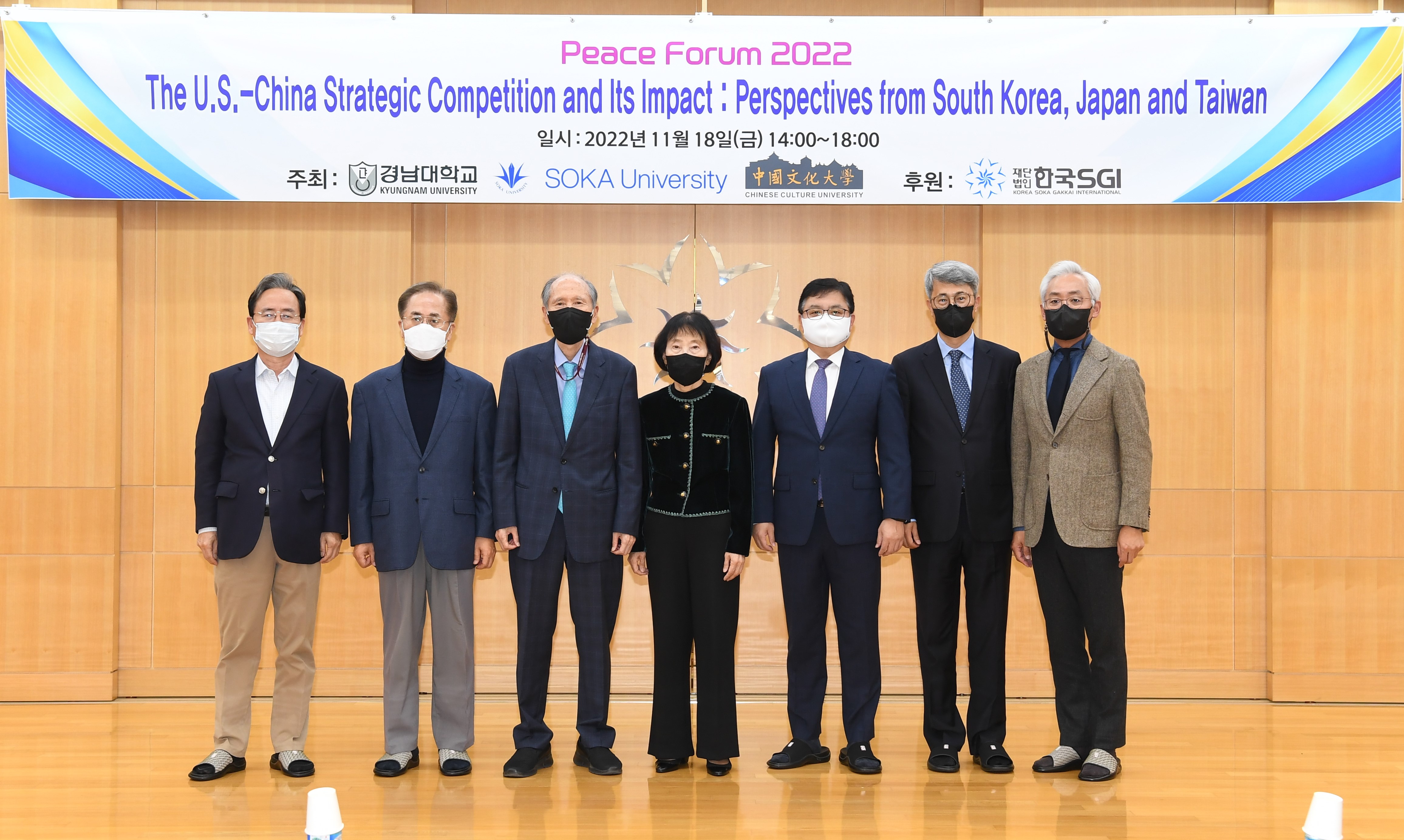 Kyungnam University (President Jae Kyu Park) jointly held the '2022 Peace Forum' as a webinar with Soka University of Japan and the Chinese Culture University of Taiwan at the Korea-Japan Friendship Training Institute of Korea Soka Gakkai International (SGI), located in Jeju-do on November 18, 2022.
In his opening remarks, President Park said, "The current competition between the US and China has emerged as a dilemma of tactical interests among Korea, Japan, and Taiwan in East Asia." He also said, "What we need is to find a better way to encourage dialogues and cooperation, avoiding heightened tension through understanding a perspective of each state."
This was followed by remarks from Masashi Suzuki (鈴木將史), president of Soka University, and Chienmin Chao (趙建民), dean of the Institute of Social Sciences at Chinese Cultural University. Both called for continuing efforts toward building peace among the three countries in East Asia by strengthening their friendship and cooperation.
This Peace Forum was held under the theme "The US–China Strategic Competition and Its Impact," with three sessions, each one focusing on a specific perspective: Korean, Japanese, and Taiwanese.
The first session (Korean perspective) was moderated by Kyungnam University professor Byong-Chul Lee. Professor Youngjoon Choi gave a presentation titled "The U.S.-China Competition and Its Impact on East Asia: Korea's Perspective." In his presentation, professor Choi said, "The Korean government is left in a situation of pursuing the strategic partnership with China while placing a high value on the Korea-U.S. alliance." He also pointed out that it is time to ask what must be done for world peace and prosperity, rather than ask what side Korea should stand on. In addition, Professor Choi said it is time for countries to raise the same voice in order to prevent such G2 (US and China) competition from going in a direction that impedes the world's security, equality, and justice.
Professor Minoru Koide of Soka University then commented, saying that Korea has no regional buffer to simultaneously cope with diplomatic pressure from the US and China, which results in the country having to face two superpowers alone. Furthermore, he noted that different opinions within Korea regarding the Korea-US alliance, North Korean policy, and the relationship with Japan made it difficult to predict Korea's position in the US-China competition. Professor Huang Rongyang (黃榮源) of Chinese Culture University then spoke, agreeing with Professor Choi's opinion on the need for multilateral cooperation in response to the G2 competition, but underlied Korea's capability of managing this situation wisely within a limited time.
The second session (Japan Perspective) was moderated by professor Jonathan Luckhurst of Soka University. Professor Ulv Hanssen of Soka University presented a paper on "Positive Results of Great Power Détente: The Case of Normalization of North Korea-Sweden Relations in 1973." Looking back in history, Professor Hansen analyzed this normalization process and concluded that the détente in the 1970s became the background for North Korea to seek new diplomatic relations. He suggested that future US-China détente would bring positive spillover concerning the North Korean issue as it did in 1970s. On the other hand, he pointed out that all countries should keep their eyes on the US-China competition so they are not swept into a dangerous turmoil.
Commenting on this paper, Professor Dong Yub Kim of the University of North Korean Studies explained that similar industrial structures between North Korea and Sweden must have been an incentive to establish diplomatic relations as well. He added that it was a variable worth noting that Sweden was a country that could be of great help to North Korea at the time. Professor Wei Chiayin of Chinese Cultural University then followed with comments, suggesting it is time to research how détente between the US and China will affect the cross-strait issue (i.e., the China-Taiwan relationship) in consideration of the fact that the former détente in 1973 promoted improvement in inter-Korean relations.
The third session (Taiwan perspective) was moderated by professor Philip Yang of the Chinese Cultural University. Professor Wang Shunwen (王順文) of the Chinese Cultural University gave a presentation on "The US-China Competition and Its Impact on East Asia: Analyzing the Leader's Narrative." Professor Wang pointed out that the US-China competition continues to be a regional variable in the security of East Asia and Taiwan, especially after the start of the Ukraine war. Furthermore, after analyzing the statements and official documents of President Biden and General Secretary Xi Jinping, Professor Wang noted that the Taiwan issue was brought up on the agenda whenever the US and China sharply confronted each other. With hedging strategies taken by East Asia countries, he suggested that the degree of the US support for the Taiwan issue may vary greatly depending on the support of its alliance partners, Korea and Japan. In other words, the future of the US-China competition will be determined by the alliance's support.
In response, Chair Professor Bong-gil Shin of the University of North Korean Studies and Professor Ulv Hansen of Soka University discussed the interests of the US and China through examination of the official remarks of their political leaders, and as well discussed the hedging strategies of East Asian countries against the US and China.
Kyungnam University, Soka University, and Chinese Cultural University have been holding their 'Peace Forum' annually since 2017 to promote peace research in East Asia and academic exchanges among the three countries.
Past Peace Forums have been held a number of cogent themes: in 2017, held in Okinawa (Japan) under the theme "Building a Peaceful Community in Asia" (Okinawa, Japan); in 2018, Taipei (Taiwan), "Prospects for Cross-strait Relations and Development in East Asia"; in 2019, Jeju (Korea), "Conflict, Cooperation, and Peace in East Asia"; and in 2020 and 2021, online (due to the COVID-19 pandemic), "Creative Cooperation for a Resilient World in the Post-COVID-19 Era" and "Establishment of a Post-Pandemic World Order in East Asia," respectively. The 2022 Peace Forum was sponsored by SGI Korea.