컨텐츠영역
fnctId=bbs,fnctNo=1230
글번호

5147
Kyungnam University, Soka University, and Chinese Culture University Co-hosts "Building a Better East Asian World Order in the Aftermath of the Pandemic"
IFES-EN-NEWS - DATE,TYPE CONTENTS

| | |
| --- | --- |
| Date | 2021-12-17 |
| type | News |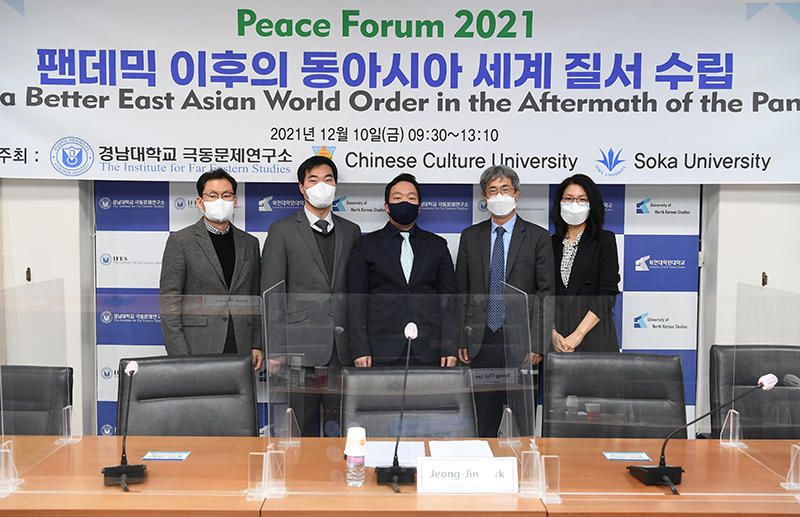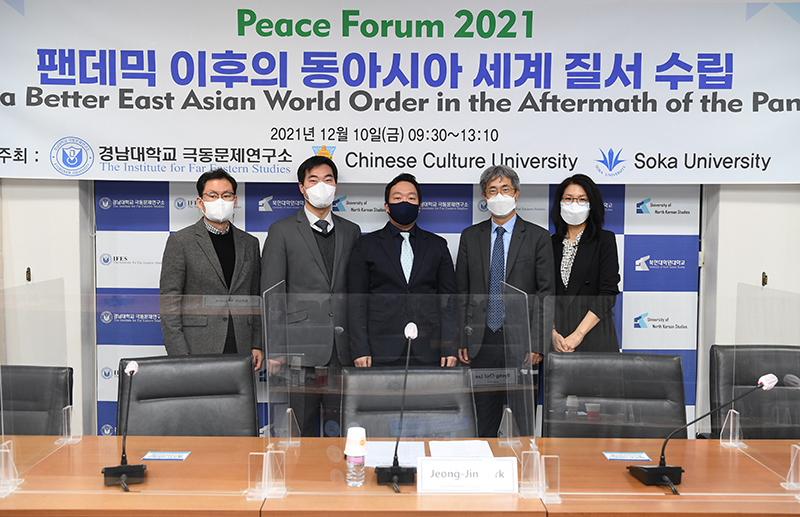 Kyungnam University (President Jae Kyu Park), Soka University, and Chinese Culture University co-hosted an international symposium on December 10th (Friday) that proceeded as an online meeting.
Chinese Culture University Acting President Shu-Yin Wang gave a greeting and Soka University President Yoshihisa Baba made an opening remark. Kyungnam University Vice President Jeong-Jin Park in his opening remark stated, "Competition, conflict, and cooperation between US and China affects the peace and security of Northeast Asia and forecasts various changes." He added, "This forum takes place at a moment when there is a need for deep contemplation and a convening of intellect on the topic of peace and cooperation in Northeast Asia; the discussion will serve as an important stepping stone in creating new dimensions to approach cooperation in Northeast Asia."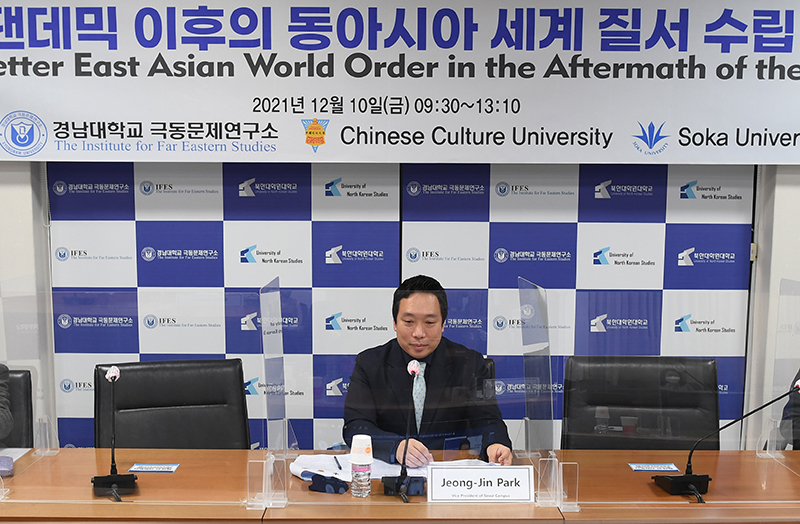 The topic of this joint international symposium was "Building a Better East Asian World Order in the Aftermath of the Pandemic" and included three sessions: Session I "Perspective from Taiwan," Session II "Perspective from Japan," and Session III "Perspective from Korea."
Session I was moderated by Professor Chien-min Chao from Chinese Culture University. Professor Hsuan-Hsiang Lin from Chinese Culture University presented "Hegemonic Rivalry and East Asian Order: Revisiting Robert Gilpin's Theory of Hegemonic War." Professor Hartmut Lenz from Soka University and Professor Jaewook Chung from Kyungnam University each proceeded with comments on this topic.
Session II was moderated by Professor Hideki Tamai from Soka University. Professor Satoshi Sasaki from Soka University presented "Lessons from Response to COVID-19 in Japan and Contribution to Improving Global Health." Professor Jung Kim from University of North Korea Studies/Kyungnam University and Associate Professor Shun-Wen Wang from Chinese Culture University each proceeded with comments on this topic.
Session III was moderated by Professor Miri Moon from the Institute of Far Eastern Studies, Kyungnam University. Professor Byong-Chul Lee from Kyungnam University presented "The Perils and Opportunities of Competitions between U.S. and China: From South Korea's Perspective." Professor Wan-Jiun Chen from Chinese Culture University and Associate Professor Dr. Ulv Hanssen from Soka University each proceeded with comments on this topic.
In 2022, a joint international symposium between three universities (Soka University, Chinese Culture University) organized by Kyungnam University will be held.