컨텐츠영역
fnctId=bbs,fnctNo=1230
글번호

5284
IFES Holds Joint Conference on Asia-Eurasia Issues
IFES-EN-NEWS - DATE,TYPE CONTENTS

| | |
| --- | --- |
| Date | 2022-12-21 |
| type | News |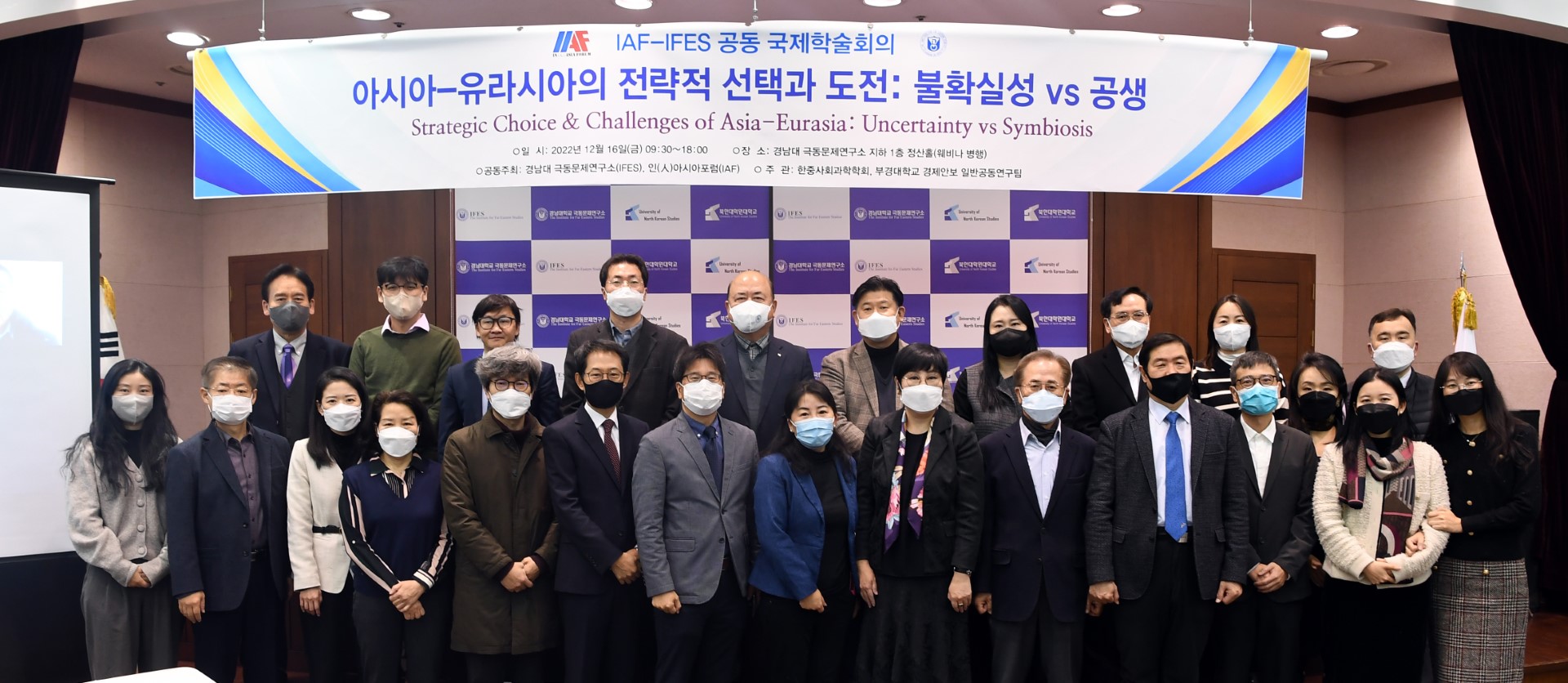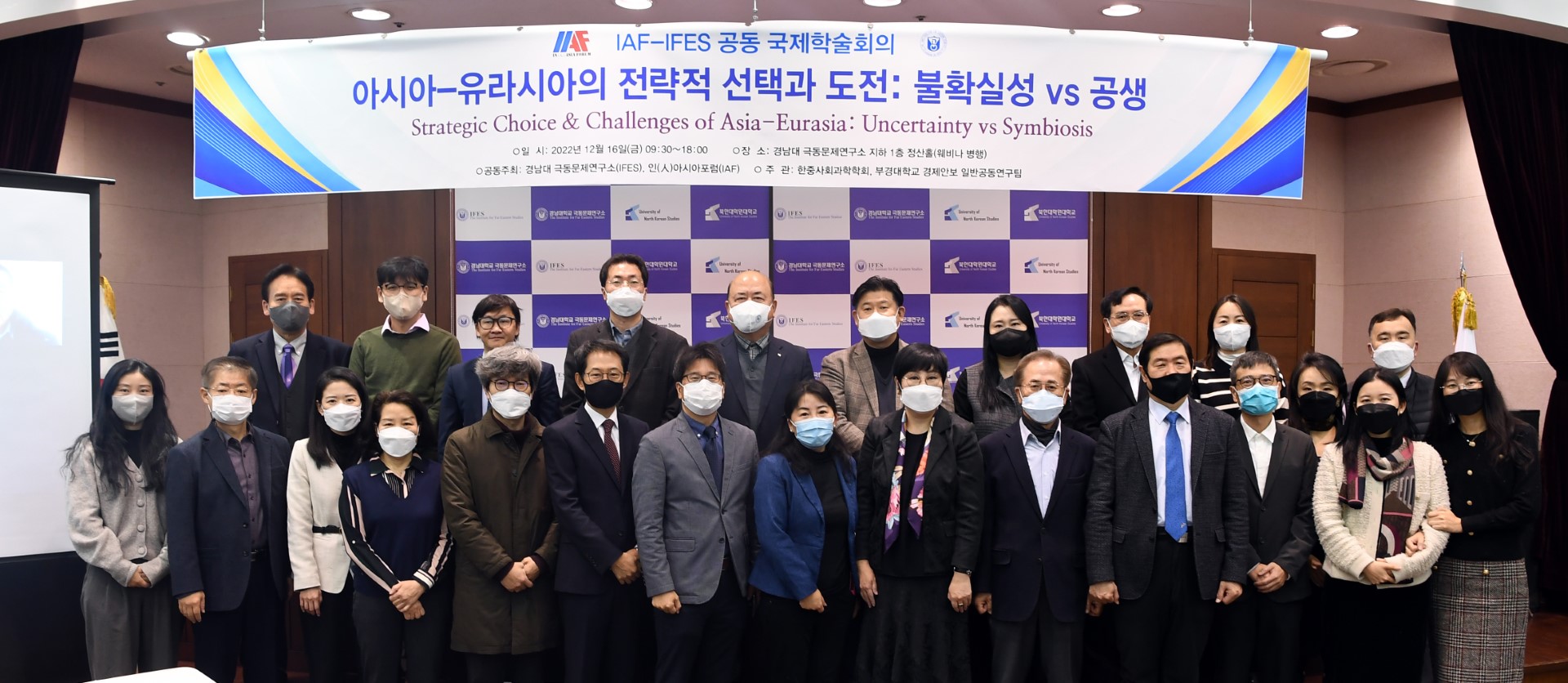 The IFES (Director Kwan-Sei Lee) held the 'IFES-IAF International Conference' with the In Asia Forum (IAF, President Park Sang-soo) at Jeongsan Hall on December 16.
Under the theme 'Strategic Choices and Challenges in Asia-Eurasia', conference participants analyzed the possibility of conflict and/or cooperation in Eurasian countries. The conference was held as a webinar attended by domestic and foreign experts in politics, diplomacy, military, economy, and society, representing six countries (Korea, Mongolia, Taiwan, China, Turkey, and Vietnam).
The conference was sponsored by the Korean-Chinese Association of Social Science Studies (KCSSS) and Pukyong National University.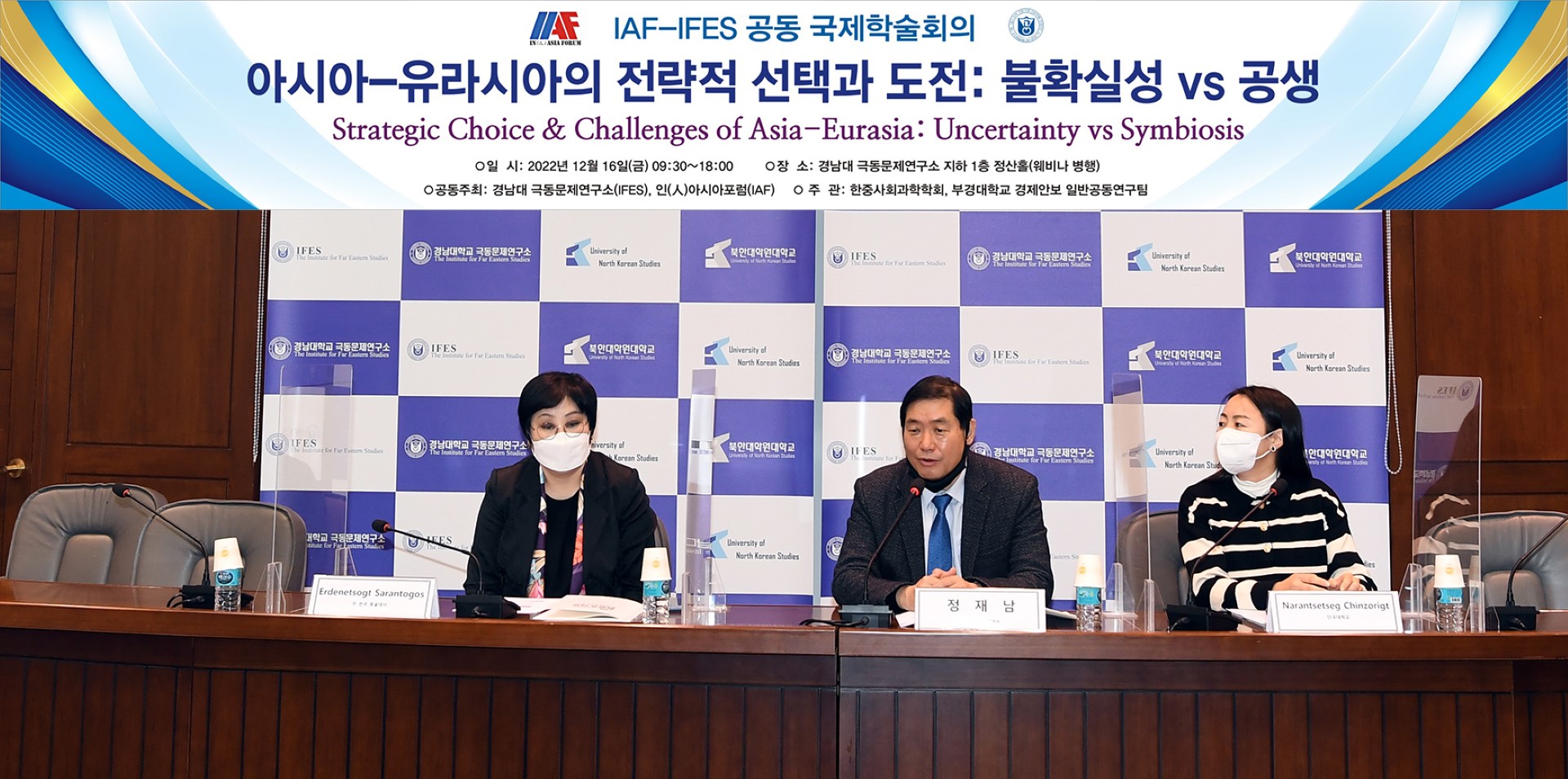 he conference consisted of 7 sessions: Session 1 (Korea-Mongolia Session), "Beyond Asia to Eurasia: The Possibility of Korea-Mongolia Cooperation" (Erdenetsogt Sarantogos, Mongolian Ambassador to Korea); Session 2 (Korea-Taiwan Session), "Taiwan's Absence from the Indo-Pacific Economic Framework (IPEF): US-China Relations and Taiwan's Political, Economic and Security" (Professor Sun Kuo-siang, Nanhua University); Session 3 (Korea-Chinese Session), "China's Political and Economic Prospects in the Post-Xi Jinping 3rd Term Era: Focusing on the Perceptions of Chinese College Students on Consumer Rights and Interests" (Professor Gao Mingjie, Guijiang Academy); Session 4 (Korea-Turkey Session), "Background and Meaning of Becoming the First NATO Member to Join the China-led Shanghai Cooperation Organization (SCO), and Prospects for US-China Relations in Turkey" (?inasi Alpago, former Korean correspondent for Turkey's Jihan News Agency); Session 5 (Korea-Vietnam Session), "The Meaning of Vietnam's Participation in IPEF and Prospects for Vietnam's Relations with the US and China" (Pham S. Thành, Director, China Center for Economic and Strategic Studies (CESS); Session 6 (Korea-Northeast Asia Session), "Symbiosis in Northeast Asia and Prospects for Korea-China Relations: Searching for a Paradigm Shift from Goo-dong-jon-i (求同存異) to Hwa-i-bu-dong (和而不同)" (Lee Sang-Man, Director of China Center, IFES); Roundtable, "China's Top 10 Issues in 2022." Open discussion followed each session presentation.