컨텐츠영역
fnctId=bbs,fnctNo=1230
글번호

5375
'2023 Peace Forum' Held
IFES-EN-NEWS - DATE,TYPE CONTENTS

| | |
| --- | --- |
| Date | 2023-10-31 |
| type | News |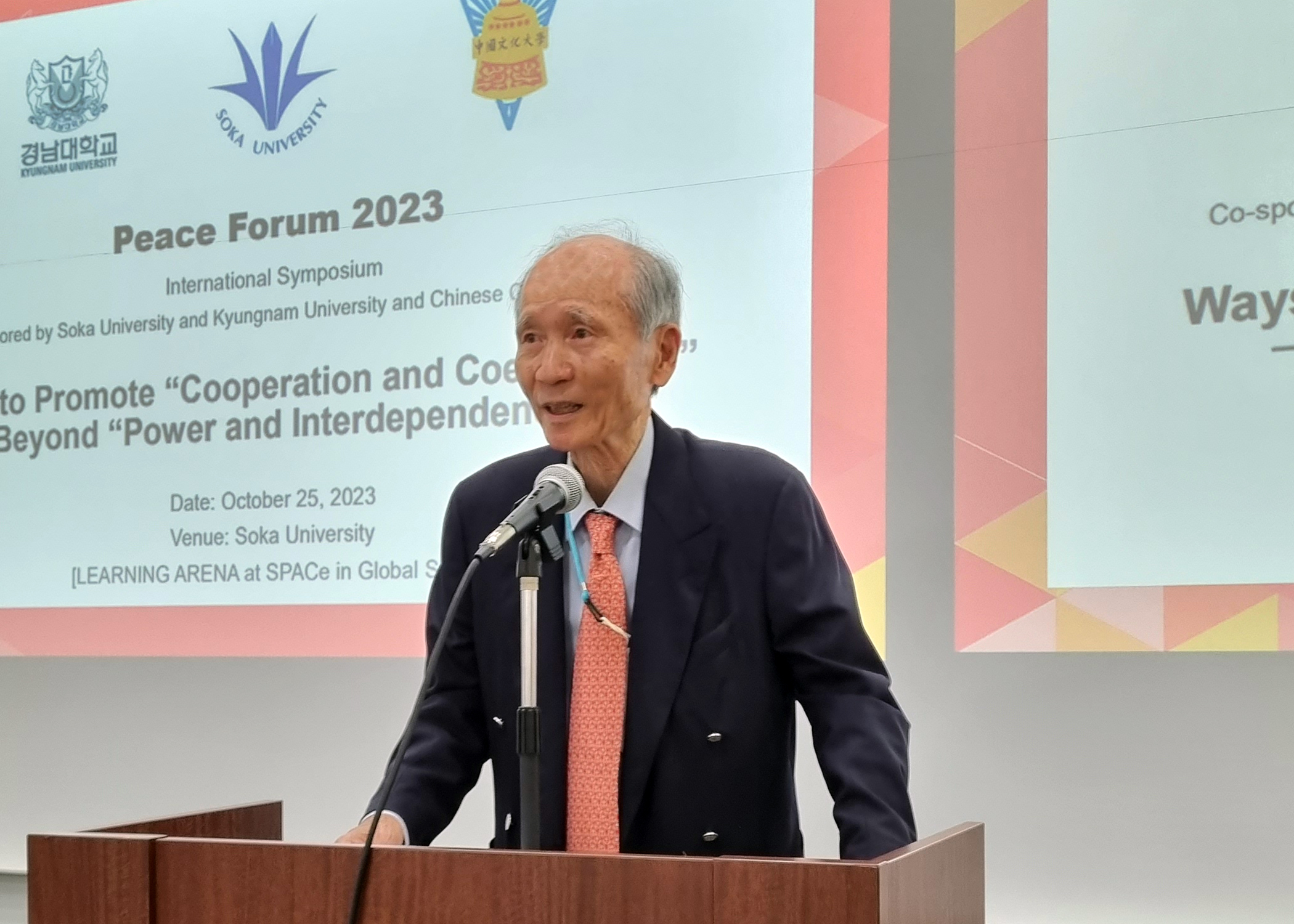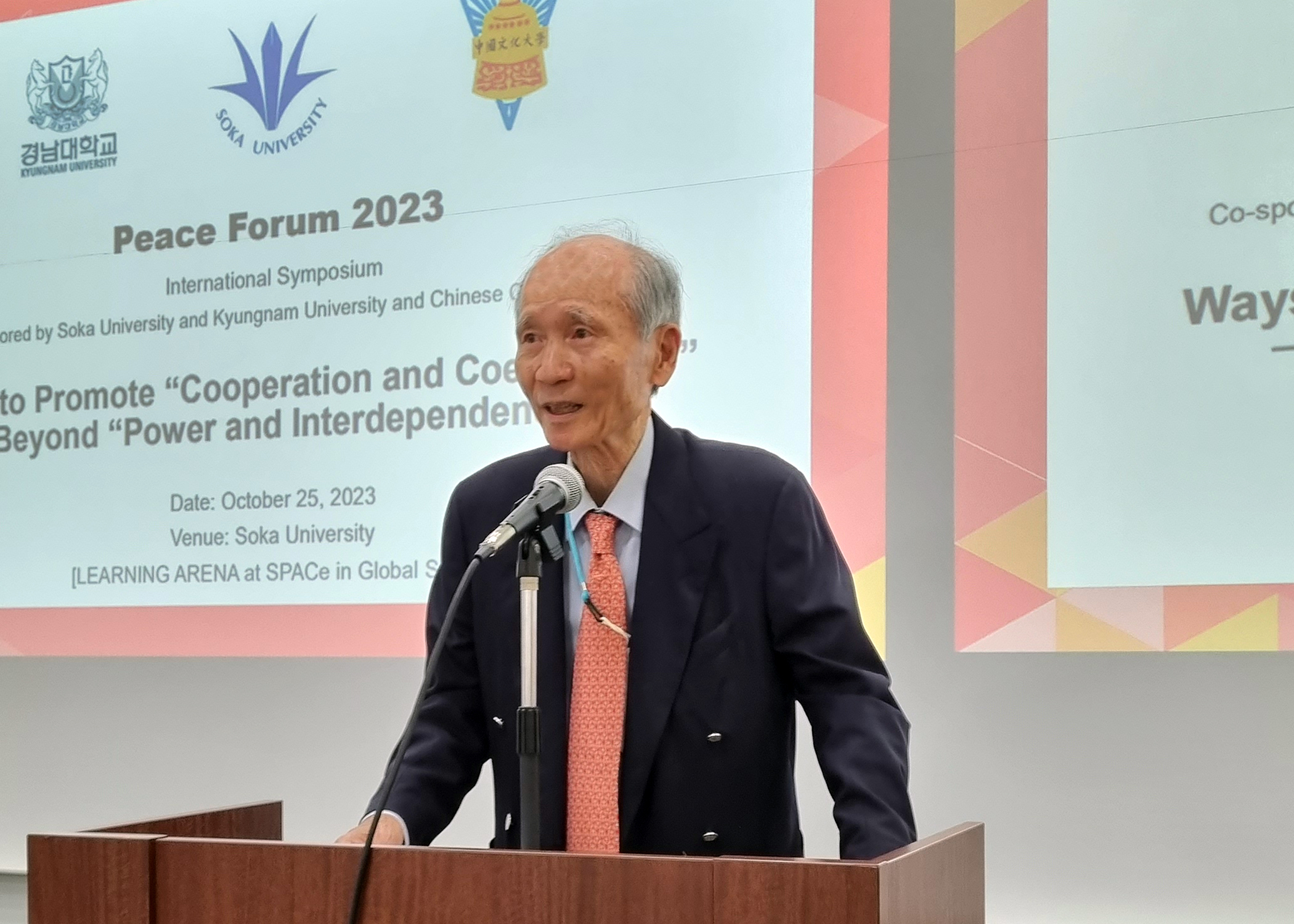 Kyungnam University (President Jae-Kyu Park) together with Japan's Soka University and Taiwan's Chinese Culture University held their '2023 Peace Forum' at the Soka University Global Square on Wednesday, October 25.
Prior to the event, Dr. Jae-Kyu Park of Kyungnam University paid a courtesy visit to Soka University president Masashi Suzuki and exchanged opinions on the development direction of the annual Peace Forum, friendly cooperation between the three universities, and building peace in East Asia in response to political changes in Northeast Asia.
This year marked the 7th Peace Forum, which explored topics of international cooperation and conflict under the banner theme 'Ways to Promote Cooperation and Coexistence: Beyond Power and Interdependence.'
In his remarks at the opening ceremony, President Jae-Kyu Park commented that, in the world today, "Conflict is intensifying as interdependence strengthens." He further asked how our nations, institutions, and peoples can promote cooperation and coexistence in the complex global system, how dependencies can be developed into mutually supportive cooperation, and further emphasized that the "forum will provide a solid platform for some critical discussion" on these topics.
In the first session of the day, Professor Jonathan Luckhurst of Soka University gave a keynote presentation on the theme of 'Cooperation, Coexistence and Competitive Pluralism in Global Politics'. Following this, professors Hartmut Lenz (Soka University), Shun-Wen Wang (Chinese Culture University), and Byung Chol Lee (IFES, Kyungnam University) provided discussion.
Professor Luckhurst said that international politics in the 21st century has been moving away from interdependence and developing toward competitive pluralism, leading to a fragmentation of the existing multilateralism and global governance. However, due to "the increasing influence of Asian countries, there exists the possibility of cooperation, coexistence, and interdependence."
In the second session, "Way to Promote Cooperation and Coexistence', Professor Jung Kim of the University of North Korean Studies gave a presentation on the topic 'Democratic Cooperation against the Weaponization of Economic Interdependence.' Here, Professor Kim stated, "If China weaponizes economic interdependence to protect its 'core interests,' cooperation between similar democracies will likely be strengthened based on the network power of the United States, forming an anti-China siege network with economic collective deterrence."
Following this, Professors Kuo Jing-houng (Chinese Culture University) discussed the topic 'Crisis and Opportunities for Adolescents in the Post-pandemic Era in Taiwan, Macao, and Mainland China: A Comparative Analysis of Social Care, Integration Promotion, and Physical and Mental Health.' Several survey results were presented and discussed.
After the presentations, a discussion was held between session participants including Professor Hanssen of Soka University and Professor Sangbeom Kim of the IFES, Kyungnam University.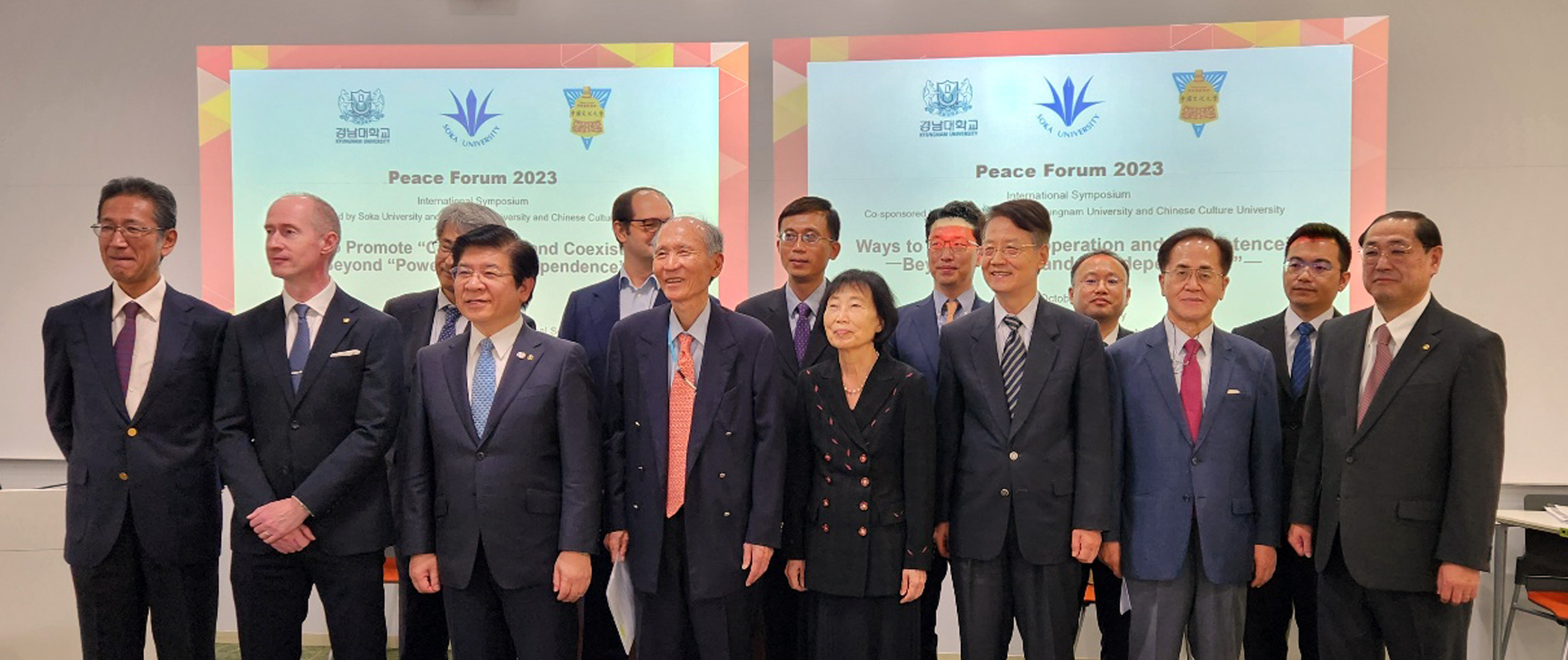 Kyungnam University, Soka University, and Chinese Culture University have been holding the 'Peace Forum' every year since 2017 with the goal of revitalizing East Asian peace research and promoting academic exchange between the three countries. In 2022, the 6th forum was held at Jeju Island (Korea) under the overarching theme 'The US–China Strategic Competition and Its Impact.'