컨텐츠영역
fnctId=bbs,fnctNo=1230
글번호

5199
IFES Holds 70th Unification Strategy Forum – The Ukrainian War and Korea's National Strategy
IFES-EN-NEWS - DATE,TYPE CONTENTS

| | |
| --- | --- |
| Date | 2022-06-14 |
| type | News |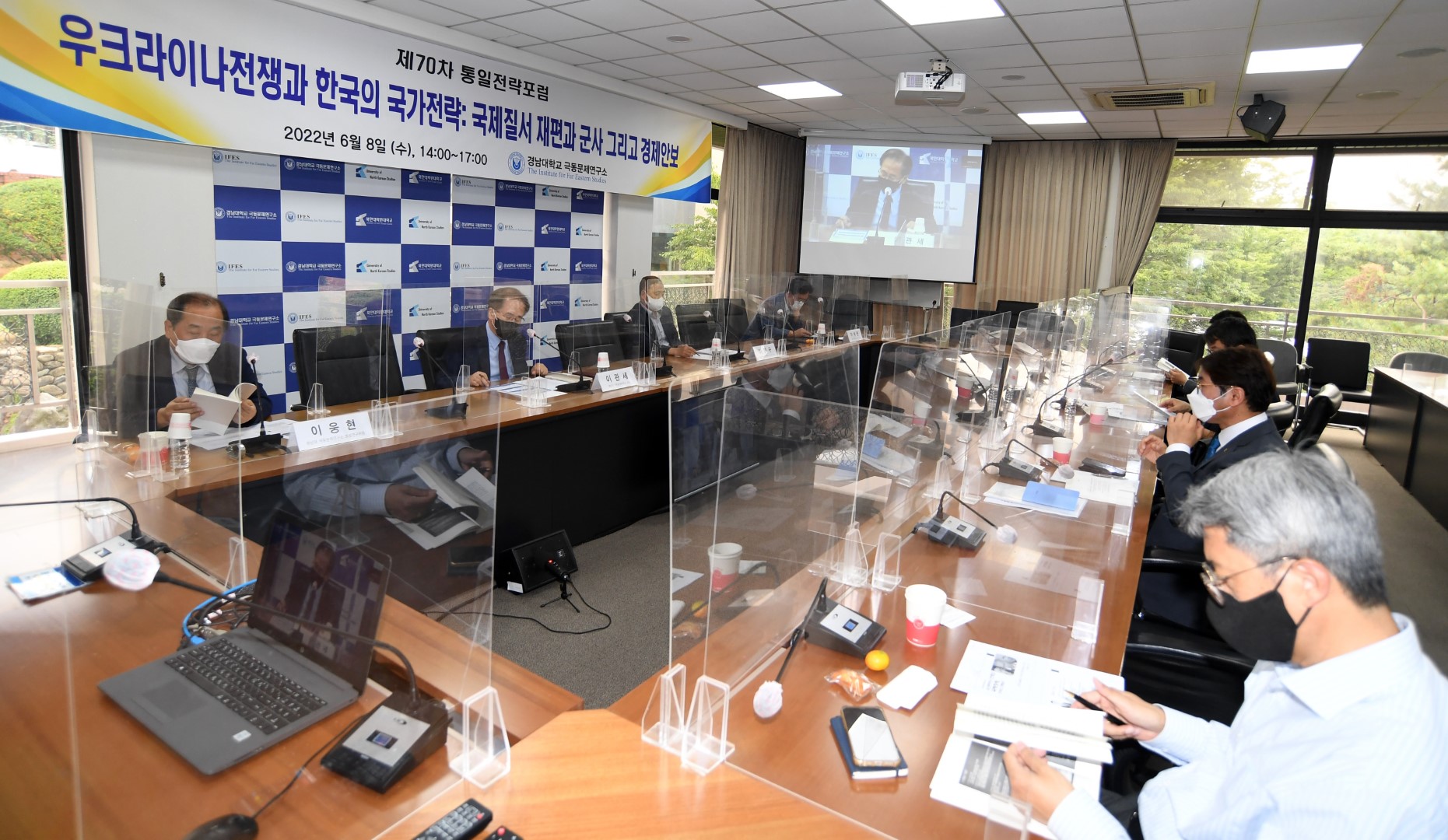 This past June 8, 2022, the Institute for Far Eastern Studies (IFES) of Kyungnam University held its 70th Unification Strategy Forum. Under the title "The Ukrainian War and Korea's National Strategy: Reorganization of International Order and Military and Economic Security?" the forum brought together Korean experts to discuss the ramifications of the ongoing conflict in the Ukraine.
The forum explored various relevant issues under two sessions.
In Session 1, "Is the New Cold War Coming? A Reorganization into a Multipolar System?" two expert presentations were delivered: one by Professor Kim Heungkyu (Director of the US-China Policy Research Institute, Ajou University) titled, "The Ukrainian War and International Situation: Korea's Choice?"; and the second by Lee Woong-hyeon (Visiting Research Fellow, IFES, Kyungnam University) on "Changes in the International Order after the Ukrainian War and Korea's Response." Discussion was provided by Park Won-gon (Professor, Department of North Korean Studies, Ewha Womans University), Lee Yanggu (Permanent Representative of Northeast Asian Community Cultural Foundation; former ROK ambassador to the Ukraine), and Lee Sang Man (Professor, IFES).
In Session 2, "How to Respond to the Expansion of the Concept of Security Sparked by the Ukrainian War?" two presentations were likewise given: the first by Doo Jinho (Senior Researcher, Korea Defense Research Institute) on "Intensifying Arms Race and Threats to the Security of New Technologies Following the Ukrainian War"; and the second by Lee Seung Joo (Professor, Department of Political Science and International Studies, Chung-Ang University) on "The New [South Korean] Government's Perception of Economic Security and the Direction of Foreign Policy." The presentations were followed by a discussion provided by Park Young-Jun (Professor, Graduate School of National Defense, National Defense University), Kim Ho-Hong (Director of New Security Research Center, National Security Strategy Institute), and Cho Jin-Goo (Professor, IFES).
The forum was conducted in Korean via Zoom-webinar format.
A pdf of the proceedings manual for the forum can be found here:
https://ifes.kyungnam.ac.kr/ifes/5517/subview.do?enc=Zm5jdDF8QEB8JTJGYmJzJTJGaWZlcyUyRjkxMCUyRjUxOTQlMkZhcnRjbFZpZXcuZG8lM0Y%3D