컨텐츠영역
fnctId=bbs,fnctNo=1230
글번호

5072
International Conference on Urban Studies 2021 - Urban Kaleidoscope of North Korea
IFES-EN-NEWS - DATE,TYPE CONTENTS

| | |
| --- | --- |
| Date | 2021-04-13 |
| type | Event |
| Attach | |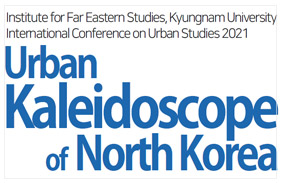 International Conference on Urban Studies 2021 "Urban Kaleidoscope of North Korea"
26 May 2021 – Jungsan Hall, IFES, Seoul Korea/Online
Hosted by the Institute for Far Eastern Studies, Kyungnam University,

Organized by the MOU-IFES Academic Exchange Fellowship Program for North Korean/Unification Studies,

Sponsored by the Ministry of Unification
We are very pleased to announce that the Institute for Far Eastern Studies (IFES) at Kyungnam University will host a one-day International Conference entitled "Urban kaleidoscope of North Korea" on May 26th, 2021 in Seoul, the Republic of Korea. This conference was organized by the MOU-IFES academic exchange fellowship program.
The IFES was founded in 1972 as one of the leading research institutions, focusing on issues concerning North Korea, the Unification of Korea, and East Asian Affairs. Later in 1997, the University of North Korean Studies was established in Seoul with the support of the IFES.
This conference is designed to provide an opportunity for scholars in North Korean Urban Studies around the globe to share their experience and present the results of their research. Due to the restrictions connected with the spread of COVID-19, the conference will be held both off and online simultaneously. Those scholars residing in Korea will be able to attend the conference venue in person, while those based outside the country will be connected via Zoom.
Program
Session 1. Pyongyang and City Planning
Moderator
Kyung-Tae Min Professor, National Institute for Unification Education
Presenter
The History and Architecture of Pyongyang
Chang-mo Ahn Professor, School of Architecture, Kyonggi University
Pyongyang: Urban Planning and Prospect of Change
Hyun-soo Kim Professor, Department of Urban Planning and Real Estate
Discussant
Young-Duk Kwon Emeritus Fellow, The Seoul Institute
Dae-Sik Choi Director, Land & Housing Institute
Session 2 River and North Korean City
Moderator
Youngchul Chung Professor, Sogang University
Presenter
A River Runs Through It: Liquid Politics and Watery Geographies in Pyongyang
Dr. Robert Winstanley-Chesters Australian National University
Formation of Trans-Border Urban Agglomeration in North Korea: Myth or Reality?
Dr. Pavel Em Visiting Fellow, IFES, Kyungnam University
Discussant
Chanwoo Lee Professor, Teikyo University
Mark Kim Visiting Fellow, IFES, Kyungnam University
Session 3 City-State Pyongyang: From Past To Future
Moderator
Dr. Pavel Em Visiting Fellow, IFES, Kyungnam University
Presenter
Reporting on Urban Typologies: North Korea's Dream of an Ideal Society
Philipp Meuser Professor, Architekt BDA, Berlin
The Contradictory Architecture of the Kim Jong-un Era
Dr. Jelena Prokopljevic International University of Catalonia
Imagining Pyongyang After Reconciliation
Annie Pedret Professor, College of Fine Arts, Seoul National University
Discussant
Inha Jung Professor, Department of Architecture, Hanyang University
Hirai Hisashi Visiting Fellow, IFES, Kyungnam University
Dongwoo Yim Professor, Department of Architecture, Hongik University
※ This schedule is subject to change
※ Webinar Registration: utraman@kyungnam.ac.kr [Name / Affiliation / Position / E-mail]