컨텐츠영역
fnctId=bbs,fnctNo=1230
글번호

5078
International Conference - Biden's North Korea Policy and U.S.-ROK Relations (Webinar)
IFES-EN-NEWS - DATE,TYPE CONTENTS

| | |
| --- | --- |
| Date | 2021-04-30 |
| type | Event |
| Attach | |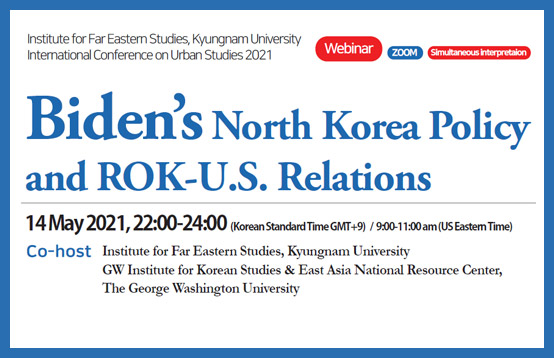 14 May 2021, 22:00-24:00 (Korean Standard Time GMT+9) / 9:00-11:00 am (US Eastern Time)
Co-host
Institute for Far Eastern Studies, Kyungnam University
GW Institute for Korean Studies & East Asia National Resource Center,
The George Washington University
Opening remarks 22:00-22:05
Jisoo Kim (Director of GWIKS)
Kwan-Sei Lee (Director of Institute for Far Eastern Studies)
Presentations 22:05-23:05
Moderator Yonho Kim (Associate Director of GWIKS
1. ROK-US relations
Hoyoung Ahn (President, University of North Korean Studies)
Kathleen Stephens (President, Korea Economic Institute)
2. North Korea-US relations
Jong-cheol Lee (Professor, Seoul National University)
Frank Jannuzi (President, Mansfield Foundation)
3. Inter-Korean relations
Yeon-chul Kim (Former Minister of Unification)
Celeste Arrington (Professor, The George Washington University)
Roundtable discussion 23:05-23:35
Q&A 23:35-24:00
* This schedule is subject to change.
* Webinar Registration: mozel73@kyungnam.ac.kr [Name / Affiliation / Position / E-mail]