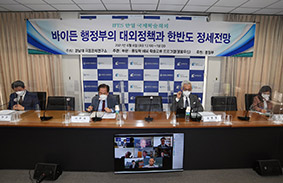 International Conference (Webinar) on the Biden Administration's Foreign Policy and Outlook for the Korean Peninsula
"The Foreign Policy of the Biden Administration and Outlook for the Korean Peninsula"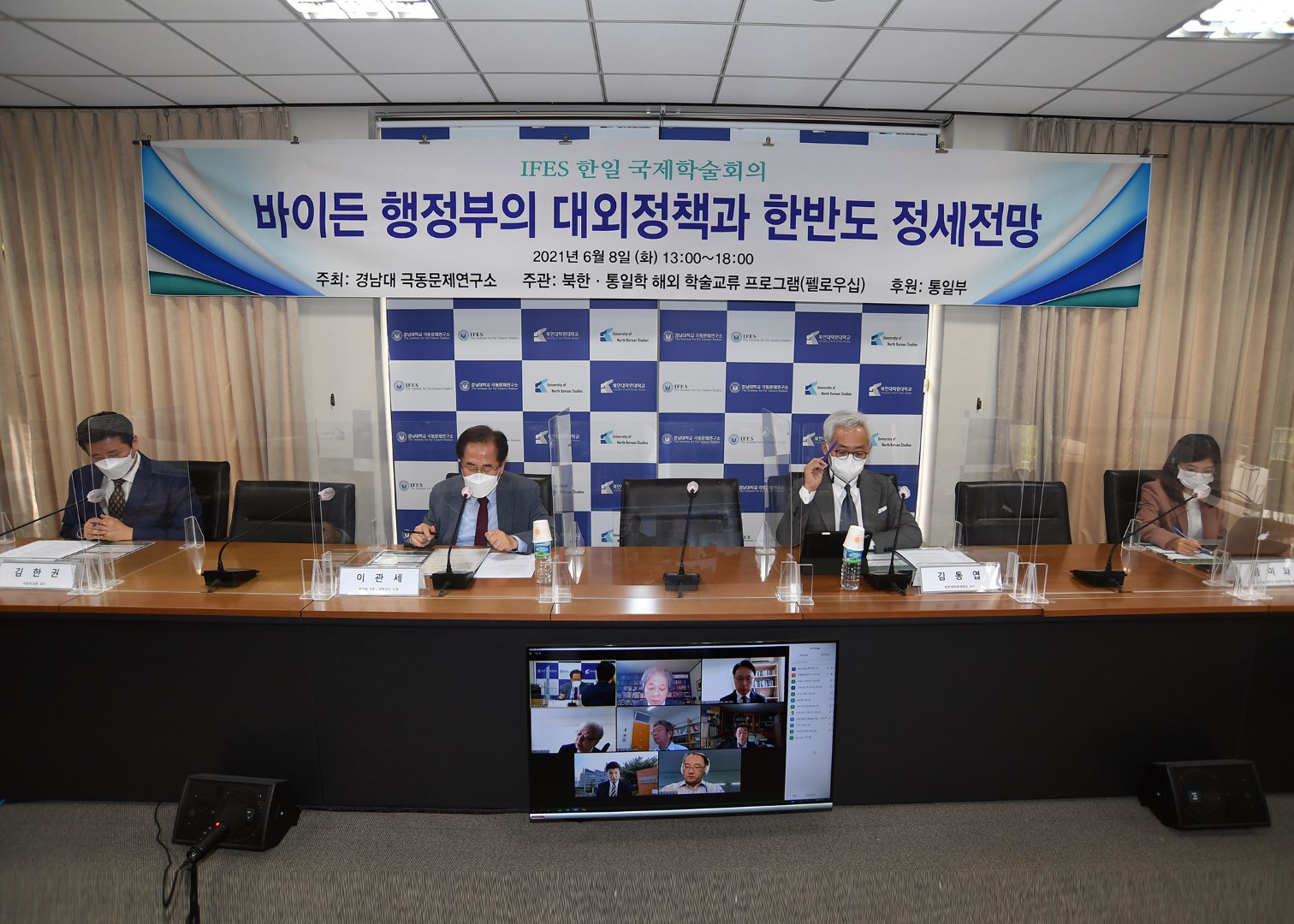 The Institute for Far Eastern Studies (IFES), Kyungnam University held an international conference under the title "The Foreign Policy of the Biden Administration and Outlook for the Korean Peninsula" on Tuesday, June 8, 2021 in Seoul.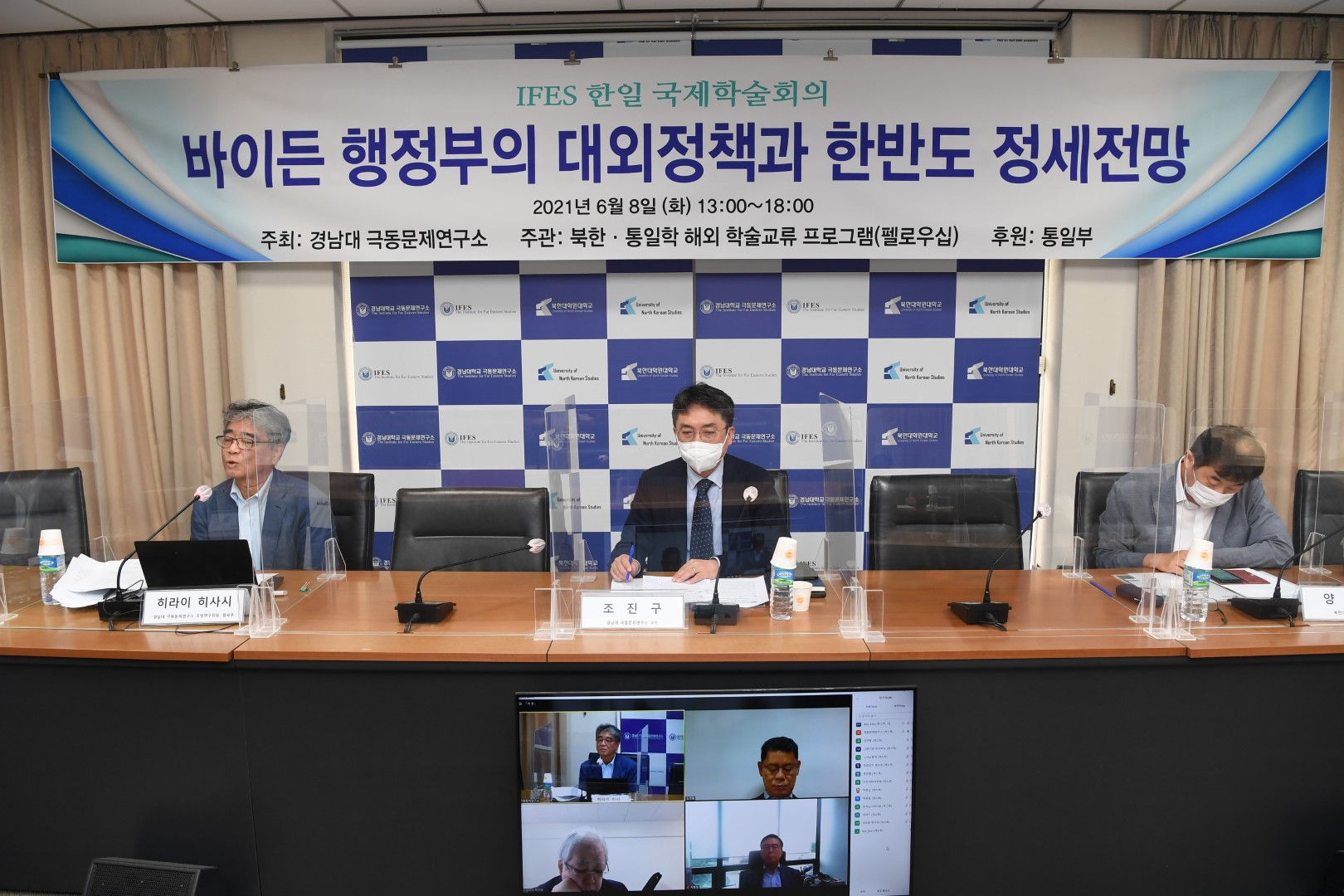 Under the theme 'US Strategy for China and the Korean Peninsula', two separate panel sessions, both moderated by Director of IFES Kwan-Sei Lee, explored two topics: 'The Biden Administration's Foreign Policy and the Korean Peninsula' and 'The Biden Administration's Military Security Strategy and the Korean Peninsula', respectfully. In the first panel, Masao Okonogi (Professor Emeritus, Keio University) and Won-gon Park (Professor, Ewha Womans University) gave presentations, with subsequent discussion provided by Han-Kwon Kim (Professor, National Diplomatic Academy), Hajime Izumi (Distinguished Professor, Tokyo International University), and Mi-Hwa Ryang (Visiting Research Fellow, IFES). In the second panel, Narushige Michishita (Professor, Graduate School of Policy Studies, Japan) and Moon Jang-ryeol (Member of the Presidential Policy Planning Committee, ROK) gave presentations, with Tetsuo Murooka (Senior Researcher, National Institute for Defense Studies, Japan) and Dong-Yub Kim (Professor, University of North Korean Studies) participating in the follow-up discussion.
Two other panel sessions, moderated by former Minister of Unification Yeon-chul Kim (Professor, Inje University), were held under the theme 'The Korean Peninsula in the Era of the US-China Conflict'. The first panel discussed US-China conflict and inter-Korean relations, with presentation provided by Hisashi Hirai (Visiting Research Fellow, IFES) and Jong-cheol Park (Emeritus Research Fellow, Korean Institute for National Unification), and follow-up discussion by Jin-Goo Cho (Associate Professor, IFES) and Junya Nishino (Professor, Keio University). The second panel explored the US-China conflict and its influence on the North Korean economy, with presentations delivered by Masahiko Nakagawa (Senior Researcher, Asian Studies Center, Institute of Developing Economies, Japan External Trade Organization) and Moon-Soo Yang (Professor, University of North Korean Studies), discussion was Researcher discussed. Discussion of the presentations was provided by Seogki Lee (Senior Research Fellow, Korea Institute for Industrial Economics & Trade) and Mitsuhiro Mimura (Senior Research Fellow, Economic Research Institute for Northeast Asia, Japan).
Following the sessions, the conference featured a concluding general discussion, with a summary critique provided by In-Duk Kang (Chair-Professor, Kyungnam University; former Minister of Unification), as well as comprehensive discussion among panelists.
Director Kwan-Sei Lee said, "As the interest in the future situation on the Korean Peninsula is high amid the recent disclosure of the Biden administration's North Korea policy, this Korea-Japan academic conference has also attracted a lot of attention. It is important."
This international conference was held online and conducted entirely in Korean. A video recording of the conference is available for viewing on the IFES's YouTube channel.
Program
Part 1 – US Strategy for China and the Korean Peninsula
Moderator: Kwan-Sei Lee (Director, IFES)
Session 1: The Biden Administration's Foreign Policy and the Korean Peninsula
Presentation: Masao Okonogi (Professor Emeritus, Keio University)
Discussants: Han-kwon Kim (Associate Professor, Institute of Foreign Affairs and National Security)
Presentation: Won-gon Park (Professor, Ewha Womans University)
Discussants: Izumi Hajime (Professor, Tokyo International University); Liang Mehihua (Visiting Research Fellow, IFES)
Session 2: The Biden Administration's Military Security Strategy and the Korean Peninsula
Presentation: Narushige Michishita (Professor, GRIPS, Japan)
Discussant: Dong-Yub Kim (Professor, University of North Korean Studies)
Presentations: Jang-ryeol Moon (Member, Presidential Policy Planning Committee, ROK)
Discussants: Tetsuo Murooka (Senior Research Fellow, National Institute for Defense Studies, Japan)
Part 2 – The Korean Peninsula in the Era of US-China Conflict
Moderator: Kim Yeon-chul (Professor, Inje University and former Minister of Unification)
Session 1: US-China Conflict and Inter-Korean Relations
Presentation: Hisashi Hirai (Visiting Research Fellow, IFES)
Discussant: Jin-Goo Cho (Associate Professor & Director of Japan Center, IFES)
Presentation: Jong-Chul Park (Distinguished Research Fellow, Korea Institute for National Unification)
Discussant: Junya Nishino (Professor & Director, Keio University)
Session 2: The US-China Confrontation and the North Korean Economy
Presentation: Masahiko Nakagawa (Senior Researcher, Asian Studies Center, Institute of Developing Economies, Japan External Trade Organization)
Discussant: Seogki Lee (Senior Research Fellow, Korea Institute for Industrial Economics & Trade)
Presentation: Moon-Soo Yang (Professor, University of North Korean Studies)
Discussant: Mitsuhiro Mimura (Senior Research Fellow, Economic Research Institute for Northeast Asia, Japan)
General Discussion
Summary Critique: In-Duk Kang (Chair-Professor, Kyungnam University; former Minister of Unification)
Discussion: all panelists